0B0icv-3hNx8-SnhEZi15ZG9FVWs
"With any luck the wind decides to stop being a dick."
Nothing much to report on today. I woke up in a fog cloud in a dew covered tent. It was fairly warm this morning though and was quite nice by the lake. As usual in the tent it was a struggle to make breakfast and tear down camp on the schedule I was hoping for. It was 9:15 when I rolled out onto the highway again. The weather was good in the morning and the wind mostly cooperated with me all the way to Espanola.
I ate a very disappointing lunch at Tim Horton's in Espanola and started off again toward Manitoulin Island. I was hoping to make it right down to the ferry terminal at the south end of the island but another insane headwind had something else to say to that plan. I stopped in Little Current to assess my game plan. I grabbed a protein smoothie and some snacks from the grocery store to try to get my energy back up to fight the headwind for another 65km. It was already 4pm and I knew it would be late by the time I finished the last stretch. After a few minutes of trying to decide, my body decided to shut down for the day. So, here I sit in Little Current, needing to be on the road by 7:30 tomorrow if I want to make it down to the ferry terminal for the morning ferry. If I miss it I have to wait all day for the next one. With any luck the wind decides to stop being a dick. If my legs feel okay, there is a slim change that I could be home late afternoon tomorrow. I'm not counting on it though.

Morning at the camp site

Lake Lauzon

Lake Lauzon

Overlooking Little Current harbor

Bridge that swings? Coming into town

Old little light house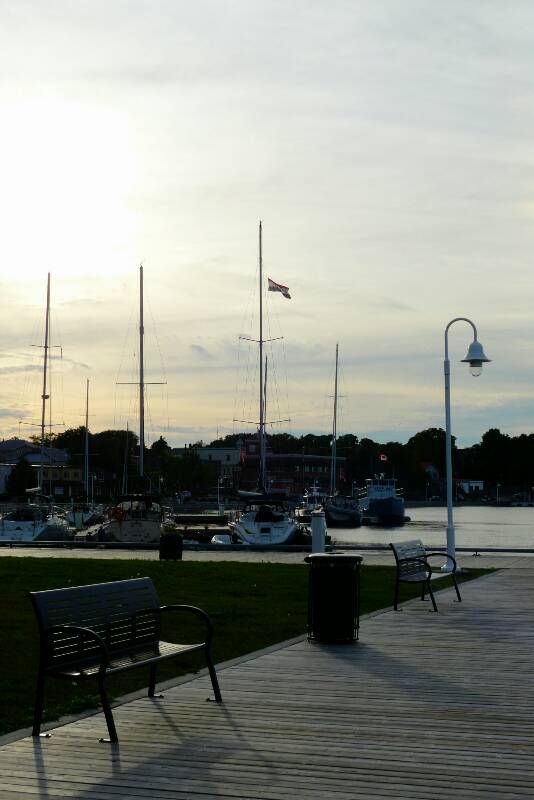 Little Current harbor

A boat.